since everyone is starting a blog, I guess I will too.

Jan, 16, 10.
today I went to a party. it was horrible being shoved in a car for a couple of hours, and to top it off. I just took my eye medicine, and it's antibiotic, and I did not eat anything it made me nauseous. and the air was sooo dingy! me and my mother made jokes of it.
the house was HUGE!
I talked with my mother, and said Image I could be vising you up in a neighborhood like this. I hate thinking of the future, always makes me depressed.
but it was fun. I played with blocks, domino's, and those egg people you put inside of each other. with MY cousin Zack, he likes webkins

I plays as the mother with a child on the way, he played as the dad, I also played as the oldest son named.... rob

and he played as the youngest son Zack.
it was fun, and on the way home. more future rubbish, but this time it was not too bad.
my cousin said he would move to Arizona, and take pictures of animals all over the world.
and I said, I would be famous, sing, act and do everything..... another broken dream. and then I said that for my first job I would work at BABW, he agreed, and I said we would be buddies on the bear stuffer.

later that evening, me, and my grandmother, and my cousin Zack went to get a redbox (rent a DVD) my grandma went into the store alone, leaving me and my cousin outside.
I sang to him. he said Hollywood for every song I sang. I believe I now have 3 and a half fans.

any ways later we watched cloudy with a change of meatballs.
it was a cool movie. better than I thought it would be.
-Cherry boom xOxO
Jan, 17, 10
UUUUUUUGGGHHH. bored out of my mind.

I hope something good happens. not even my computer life is going well. I opened a golden chicken and it gave me a sheep topiary!!!! I HATE TOPIARYS.
I'll keep yall posted.
it's gotten better. although I nearly murdered a can of tuna fish, it's better.

-Cherry boom xOxO

Jan, 23, 2010
what is Arcee Pattinson always doing?! on the computer of course, but it snowed like crazy here!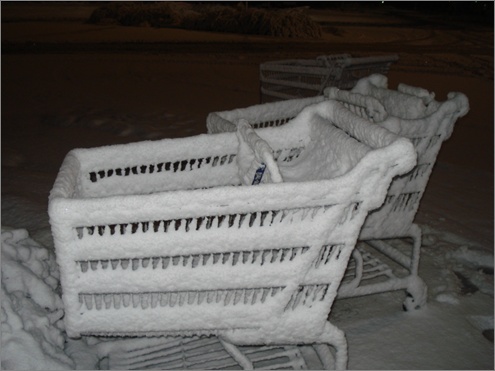 snowy carts at in walmart parking lot.
so I went to walmart latter in the day, at night after a day of... computer time. of course.
the roads where desalent, but beautiful. I love snowy nights.
so walmart was a BLAST!!! my only excitement.
I swear if I keep listing to Parry Gripp I will be one crazy, happy person. I sang about every thing... like "I don't want the new mooooon cd since there is no rob songs, WOWOWOWWWWWOOOAAAH." and there was some people right there, and I did not care, and then I was singing "Oh yeah, since I first seen those pants, i thought they where girly ones." and this dude looked at me, and I was like WHAAT!?

anyways. I have 22 more dollars to my name. so I might a new bear with it, or some farm stickers. what do you think I should by?
and when I got home I watched some Earl... it was 'locked a guy in a truck' I liked that all of his
computer friends
came to his funeral.

-Peaace out G- G da- Uuuuunits!!!
Jan, 24, 10
Heart broke... this might just be my last blog update, but that is the least of my worries right now.
I went the day upset at some of my fellow forum friends, but then the day took a turn... for the better.
We were all having some fun building a snow man, and playing transformers in the snow.
it was some what perfect for my liking.
Here's the snow man, his name is snow shider.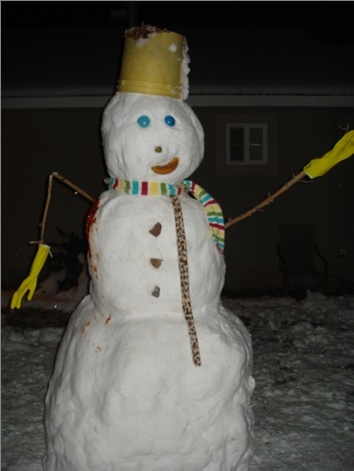 My snow man Snow shider.
it was fine til, my dad started being stupiid... as always.
he might find my favorites and look threw my stuff, and find this, and say that I am talking rubbish about him. *sigh* it's like you rise you fall, you grow tall you get cut small. or an easier explanation would be like a roller coaster, that your riding blind folded. you go up, and then you are being dropped at a thousand miles without notice, also blind folded.
I know others explain things like a roller coaster also, but as I said blind folded and the drops are great, and the climbs are small.
depressing aint' it, but trying being in the middle of it all.
any ways... I don't know what to say now... maybe.... I dunno.
-goodbye hamsters good bye

Feb, 8, 10
been up all night, just about went to sleep, but I did not. I decided today was actually going to be spent not sleeping, and I accomplished some things!
I went with my mother, and brother to fax some papers, get ice cream, and get pizza, and a movie.
my brother was a brat threw all of it. I hate having to yell at him, it makes me fell old, and like a mom. I'M NOT THAT DEMON CHILD'S MOM YOU OTHER PEOPLE!!!!
lol, but after all of that my my mother, and I went to go get me another build-a-bear. we had lots of coupons. I ended up getting this little beauty!
Cherry Boom Boom. hello kitty B
AB
her name is cherry boom boom.

cute huh!
then we sat down for a bit, I tried to look really cool with I think I did a great job at.
and then we went to this store that burned my eyes, but it smelled pretty

and then went down to hot topic, just to look.
I WANT THAT LADY GAGA SHIRT.

and looked at sun glasses. I want a good pair.
then we came home, and watched zombie land. EWWWOOOOO TALLAHASSEE ROCKS. GO TWINKES.
that was that day.
-Cherry boom boom. xoxo
Jan, 10, 10
although I woke up at one in the morning the day was good to my standards. more at the begging, but I really cherished the first part of the day.
first after being up all night, my father, and I took my brother to school, and he did not say to me 'Smile' or 'say hi. be nice to those people' and I would always say "I don't have to do NOTHING for those people." but it went well! he was good.
and you know the necklace off of the 35th anniversary hello kitty. I used it as a bracelet! It was a little loose, but made be look GREAT!!!

and then I persuaded him to take me to the gas station. I was really bored. there we go slushy's

and I got a pack of gum. chewing that gum now. NOTE TO SELF: always buy sweet watermelon

then we went down to the harly shop, which I thought would be a good activity. since he took my brother. he was not... great, but he was OK. be made a few mistakes but not major. he kept walking around like a lost puppy, and when I got my mind set on the next place i was determined.
later after leaving, we drove down to the mall. you might not know what's at the mall, buuuuut. there is hot topic, and build-a-bear work shop!
I wanted to show him the lady gaga shirt I wanted.
I showed him that I wanted the yellow, and blue, but I later changed my mind to the black one. I will try to post a picture.
and we agreed on DESTROYING JACOB. he was not the same way with bella. he kind of likes her, and says she looks like my mom. WHAT??!?! even my mom disagreed with this, but.... on the good side he did not say ANYTHING about Gaga... he kind of likes her too, but I told him she is my girlfriend, and he let me get the shirt!

that was cool! but then a emoo drooped something, and dad almost nelled him in the head... too protective Majic damo ham.
oh well, and since it was day we went to BABW! I've never been to the shop in the day, but glad I did!
first we looked around at the bears, I asked him which bear would he want? He said the dimples teddy "he did not say you know pointed" the panda, and the wolf. he really liked the wolf.

I said I have all of those one's

then I told him that they have a bear bathroom, and he wanted to see! there was a worker in the way she almost fell over on a bunch of boxes. sorry babw worker. yikes! but we looked, and he thought it was cool!
and I peeked in the bear room next store... TOTES WITH THE BEAR STUFF IN SIDE IT!!! THEIR ORGANIZED GENIES!!! see I love totes. there grrrreat!
and then we seen that the bear stuffer was OPEN!! they where cleaning the glass, and it was open... the glass front part!! OH MY GOSH AND I SEEN IT!!!! and then a bear computer was restarting, and GUESS WHAT OPERATING SYSTEM THEY HAVE. *me breaths all crazy like* WINDOWS XP AAAAAAAAAAAAAAAAAAAAAAAAAAAAAAAA
AAAAAAAAAAAAAAAAAAAAAA
AAAAAAAAAAAAAAAAAAAAAAAAA
JUST LIKE FREDWARD!!!! I HAVE THE SAME OP SYSTEM AS BUILD-A-BEAR WOOOOOOOOOOOOO HHOOOOOOOOOOOOOOOOOOO XD XD XD XD
lol I'm crazy.
then we went to this shop with all these little trinkets, and fairies.
I picked the wrong store, he took forever talking. BLAH DA BLAH BLAAAHH. with this old lady who said i shouldn't be looking for a guy, and hates lady gaga. not my type of old lady, but she was cool.... oh yeah!
I seen the farys, and I thought of them to be some of my forum friends. I seen one that had a pink mask on, and I thought of beth. like her BABV mask

and really can't remember any others.

and then came home, and insulted the new garfilded, and that is all really

in a way my dad is really just like me... what I figured out today.
1. he loves the fight
2. he follows instead of leads in a store.
3. he loves to talk.
4. he is a wimp when it comes to leaving someone, of something
5. he wants to look cool, while being bad, but protective
.... that's all I can think of for now, but don't let that fool you we DO have many differences.
-RA RA AH AH AH

Feb, 11, 10
My heart Aches. I feel like giving up, but I'm not that type of person. I need to know what's at the end, and what happens on the way. I write this in between cries and it is hard to type for the reason my heart makes my body knot up.
I try to stay silent. I don't want someone to try to come in my room, and ask me what is wrong. I'd rather deal this all of this alone… I lie, I would love to have someone here, not to ask questions, not to ask how to fix, not talk, I would just want them to hold close ………… and they would help wipe away tears, to hold, and not let go. I think you know who I fancy for this job, and his little furry clone doesn't hold hard enough.
I know this is my blog, and you most likely not even read this, but if you are I'll start from the begging.
I started the day out well, done everything I wanted. I thought the day would be nice… I always wish for too much.
I felt horrible while chatting to some of my friends… I don't know how to describe. I felt like as if there were no point… I still feel that way…
And I went with my father to go get my brother… I felt good asking to play with his little friends. I really needed a confidence boost. That all failed when that little DEMOND child ruined it. I told it was time to go… he resisted, and would not come I held his hand to the car; he SAT ON THE GROWND SO IT MADE IT LOOK AD IF I WERE DRAGING HIM. AAAAAAAAAAAAAARRRRRRGGGG. Sorry, it was horrible. All of those kids were watching…. After I tried to be nice, he ruined it, and of course he had to do it right in front of the car with dad watching… I hate this life.
And my dad kept telling me early wear the other black jacket like he was wearing SO I COULD LOOK LIKE HIM!!!!! HE IS UGGLY! AND I HATEE HIM!!! I don't want to look like this, I want to look different, and run away… far away, and never look back.
No one is here to hold close, only my bear named rob.
These are the times I wish I had real friends that don't just show up on the computer. It breaks my heart to say.
Dreams are too high for Arcee Pattinson, and I'm just too short….



-

Feb,14,10
today was valentines today... *sigh* it had it's up's and down's. umm hmmm were to start, were to start..... I know! first we went to dinner... more like lunch but, you know... and it was cool... sorta. my brother, and I played with tractors. lol

I was shider dude, and he was dodge. it was fun. I rubbed butter on my tractor. lol

and then we drove out by the lake. it was cool how the ice formed, maybe if i was not lazy i could put my pictures on here, but you know how I am.
and it was not as pretty as when it was at night. and there was a park, and you know those firemen polls. well I finally went down one!!!! in my whole intire life I have never did that.
every time I went "AAAAAAAAAAH OH NO OH NO!!!" lol

after seeing my mother do it, and my brother saying "Rob is going to be at home... eating cake if you do this." and I was like HEHEHEHEHHEHEHEHHHEHEHEHEHEH OK!!!! and after a couple of tries i did not go AAAAAAGGGG OH NO!!

and when swinging on a swing I got inspiration for my next storie. swinging on a swing. the sun set was sensational. also before a jorney I seeeeeen FAAAAAAAAAARRRRRRRRRRRRRRMSSSSSS!!!! and and and I seen cows, and horeses, and some chickens, and those meany faces had donkeys.... sad... any ways, and I desided to send my mother, and my brother a money I
you thingy in farmville!!!

well more happened, but I'm going to sleep naw.
-peace out ge unit fish, snow shidas.
Feb ,17,10
Oooooouuuuh uugh. I am soo sick, and I feel like Rubbish.
I have strep thought, and I have a headache, and my body aches for going down that poll.
oh well. life is a pain.
I'm also very dizzy, but on the bright side. I have some medicine that will help.
I'm soooo tired, but I can't go to sleep coz I fear that my thought will start to hurt again. I'ts like being trapt.
well, that was today, but yester day was not too bad.
Feb,18,10
I went up to my cabin thingy... and the snow was up to my knees in some parts! then we went the rest stop, and my mother and I were using the bathrooms. and we were talking.... about stuff like funny stuff for example...
Muther: my toilet paper is backwards.
Me: I think they do that just to mess with you.
Muther: those jerks.
that's telling it mildy. and we soon found out that there was a woman in the other stalls

listing to us talk rubbish. she was quiet.

and then my mother and I were talking about it, and then coke cola came out of my nose. it hurt

any ways wish me luck with my illness.
-arceeeeeee ooout!
march, 5, 10
Ello mates... well in this wonderful spring break it snowed.... I know pretty ironic. any ways, I woke up at 6 in the morning, and I was just like 'do da do' being Arcee and waking up at 6am in the moring... and then I herd a sound... like a bug buzz, and then I FREAKED OUT! and did that dance you do when you think there is a bugg on you... ya know. Arms up, and waving EVERY WHERE!

and so then after that my internet went all lame, and then I was bored so I danced... yeah, and then ate, and then I fell asleep to lady gaga music.

and then woke up coz mum wanted to go watch a movie at grandmas. it was fun we watched 'my sisters keeper' and it was a good movie.

and then talked to grandma about stuff, and FARMVILLE, AND PETVILLLE WOOOOOOHOOOOOOO. any ways that's it really.
-Half psychotic, sick hypnotic. paaaattinsoooooon ooutt...
*me throws bella out the window!! he he

April 18, 210
have not updated this rubbish latley, any ways.... today we are almost done with my mess of room! I will soon get my baby fredward back!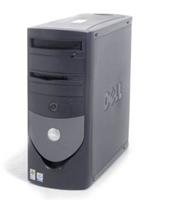 Fredward. Dell Optiplex gx260. Windows XP professional.
I got to look inside of him, his insides! they were dusty.

and... his monitor, is a fat jurk! it takes up all the room on my desk!
and... yeah that's about all for today.... can't wait to be back in black.

-Fredward face out!
may 9, 10
Mothers day for America, AMERICA OH AMERICA.
anyways I drew her this picture.
Arcee>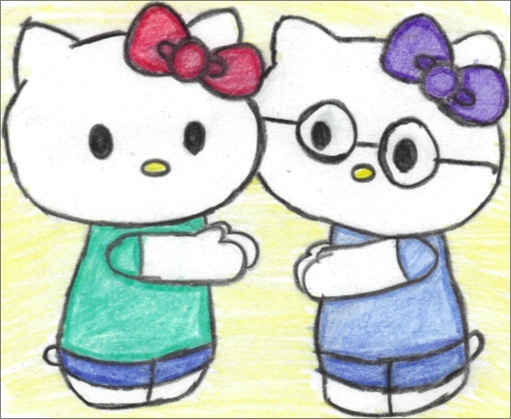 <Moy mum
I put it in a card, and I wrote her something in it. I also go her gum, resus cups, a four pack of red bull, and a baby sittin barbie, that has a toilet.
and some orginal pringle crisps.
she really liked it, and then we went over to my grandmas for pizza.
>: D
May 11, 10

Today it was my brothers burthday.
i helped my mum get him some presents, and then he opened em. but I felt like he did not like them, but you know... little boys.
and then we ate cake... his cake had a tank on it, and LOADS of frosting.
and then we went to the arcade, and I got TONS OF TICKETS. 602 to be exact.
and then I played LAZER TAG! and there was some dudes there.

the first game they took toooo surious, they were saying my brtoher got enoyolated, and whatever, so I was like >: ( and I felt sad like 'I would never be asked to have a nano suit, and I would be those lame goys that get frozen! I bet I would not even be one of them' I was extreamly sad.
But then the next time it was less people, and I was FRYING them sukas. and I screamed like a gurl a lot.

>: ) then I felt extreamly evil, and I would have a maximum nano suit. Even this one goy high fived meah.

that felt cool, and my name was merlin. hahah i would not stop thinking that Evan would love when I said my name. and they were asinged names, but still.
and it was just pouring the wonderful rain outside... I felt so inspired to write. and I thought about a really cute part for my stories, so I should go write now!

and when I got home I was like GOOD NIGHT! and went right to sleep. I was driping sweat. lazer tag is FUUUN, and I wish I could do it more! ... ahhh well night night.
nighty night my fwends
may, 12 10
good day today... my dad even made food! :O wow I was amazed.. I think I should stop complaining about his food, and be content so exleast I will get something... but yeah good good!
and then I had to have my stupid hair brushed... UGH -_- and I was like 'I HATE THIS STUPID THICK HAIR, AND IT'S ALL STUPID AND CURLY! AND WHO EVER SAYS THEY LIKE IT THEN THEY CAN HAVE IT!!' and then oh how ironic that the church ladies came over to give my brother a burthday treat, and they were like 'awww I love you hair arceee, it's so thick, and beautifl' -_- Irony. I'm going to go listen to alanis morissette.

and then me, and my mum went to costco, and then while we waited we went to BUILD-A-BEAAAR!!!
and got my three birth certificates FIXED! and gues what! I got to go on an employee COMPUTER!!!! :O :O :O and I logged in on it, and I think she kept me logged in, and she probably looked at my account... I sure hope I am wearing my cool clothes!
and I also got rob bear a new white plain shirt... his muscle tee was dirty, and I can't find it anywhere! :O but I put on a black ugly shirt on him, and he got to com into build-a-bar. it was fun, and it was the nice build-a-bear gurl.

like one of my favorites.
and then we went back to costco, and then to grocery store to get toilet papar, and I brought rob bear in, and he sat in the children seat. it was so cute, and then I came home, and that is about it......
dun dun duuuun
june, 10, 10 Today was a good day! Well to my standards


I woke up at 3 in the morning, and that was a perfect time for me to wake!
and then I did worked on my drawing of my BABV friends.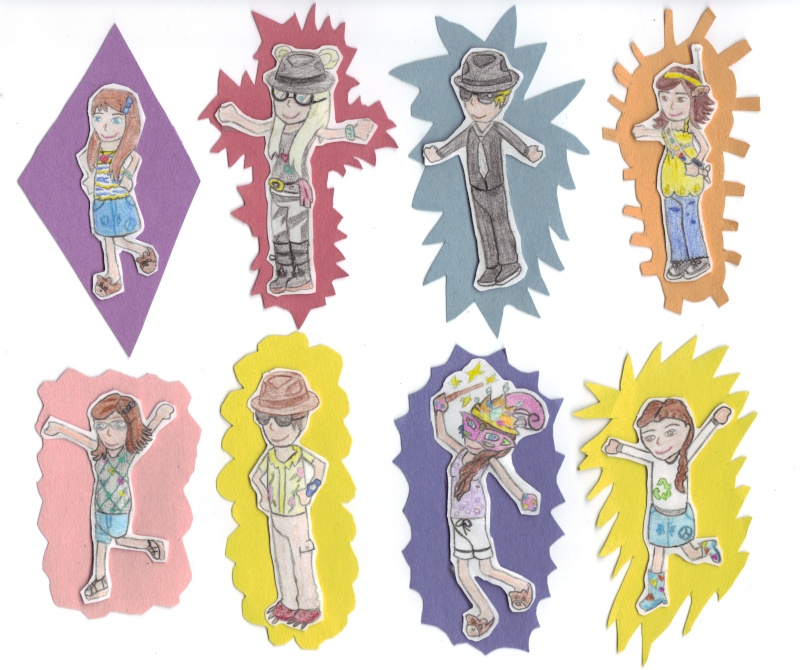 I worked on putting them on the paper.
And my mum made eggs, and toast. Thnx mum


and so then I took a shower, and we brushed my hair... oh it was a mess, but I played crysis warhead to take my mind of the stupid pain


and so then we were going to the store, but my mum was loke oh let's go to BABW, and use Dodges 25 dollar gift card, and all out bouneses! and I was loke YAAAAAAAAAAAY! coz I wanted to go rellly relly bad to get zzoo animals, and get the yellow bag thing.
And so I got the Parrot, and The tiger, and my brother go the lepord.
And so I was loke MUUUM! I want both... the tiger, and the parot. and I pulled out my own money, witch was like a dollar short, but moy mum paid the extra dollar for me

and so I was talking to the employee, and she was loke this is the last parrots. and there was only two in the bin. SO I GOT LIKE THE LAST ONE! omg that was soo close! few.


and so I named my tiger Psycho, my parrot Fruit salad yummy yummy, and my brother named his lepord Nomad!
I'll try to add pictures latter.

and so then we went shopping FOREEEVEER! and it was two hours of boring, as for walmart I would of had two hours of joy! but we went to this stupid crappy local store. And got some goodies, I got hello kitty bband aids

and pepsi, and HUGE bag of gummy worms

and OREOS!
so yah. and we came home... the end!

-xoxo