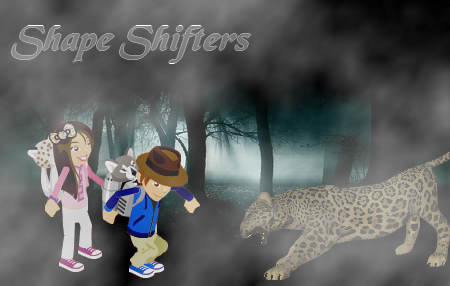 Chapter 1
There I was, backed up against a wall; the only thing separating me from these giant mutant animals was the keyblade.
"Julia get up! You can't give up now." I said
I couldn't think of anything else to do, so I turned into a wolf, and grabbed Julia and threw her up unto my back. I could tell she was knocked out, so I just kept running back to base. The event flashed into my head again. They were like giant cats… Shape shifters? That seemed like a logical explanation. I could smell a sweet smell; it was Julia's hair as she lay on my back motionless.
"Jessie, this is Evan open the doors!" I said as Jessie pulled the lever to open the doors.
"Evan what happened out there?" asked Jessie looking at Julia.
"I was attacked by some other shape shifters… At least well they were big cats, so for now shape shifters." I said returning to Human form.
"Hold on Julia."
I waved the keyblade over my head
"CURE!"
Magic shot around Julia, and she woke up. 100% healed from anything that was wrong with her.
"Whoaaaa…. Did anyone get the license plate of the truck that hit me?" asked Julia with a laugh.
I picked up Julia and gave her a big hug. Her soft hair was on my face.
"It's not like I was going to die." said Julia hugging me back "Could you put me down now?" she asked with a smile
"Oh yeah sorry, just thought I might have lost you back there." I said
"Well I'm ok, so don't worry we'll find out who or what that was." said Julia handing me my hat.
Chapter 2
The news that Julia had gotten hurt spread like wild fire through Head Quarters. At lunch everyone gathered around her to ask questions
"The only thing I remember is that they were big cats, and then I passed out." said Julia
"Alright everyone back to work, she's already told you the story so get moving! We've got work to do." I said coming around the corner.
Everyone returned to their work, and as the day went on, I started to think about what if they came after Julia at night. I mean we slept in separate bedrooms across the hall, but I could protect her better if I was in there, so that's exactly what I did.
"Sure this is necessary?" asked Julia as I turned into wolf form, and slept on the floor by her bed.
"Yes this is, now go to sleep." I said laying my head on my front paws.
The night went on, and Julia slept peacefully in her bed. I heard something coming from the front entrance. Maybe it was just wind I thought to myself, but I got p and check it anyway. I peeked my head out the door, and saw two big cats roaming outside the glass front doors. I slammed the door of Julia's room, and jumped up on her bed, she shot awake.
"What's wrong Evan?" asked Julia
"They are outside!" I said with a slight growl.
I leaped out of the bed leaving Julia confused, until she realized this was real danger. Julia ran to Jessie's room as I went to go and apprehend the situation.
"Jessie get up Evan's possibly in danger call chief!" said Julia slamming Jessie's door.
Jessie was already awake, and she called Chief.
"Chief Evan's found the monsters, go and help him." said Jessie without another word.
"I'm glad you guys are here this week, otherwise I don't know what I would have done." said Julia sitting on the floor. Just then Zed appeared in the room.
"What seems to be the trouble?" asked Zed mid yawn
"Well Evan's gone to handle those shape shifters because they are outside."
Zed stared at Julia for a moment.
"Well then I'll just go assist him he may need me!" said Zed zapping out of the room. Just then there was the sound of glass doors breaking.
"Evan!" shouted Julia as she opened the door.
There were the big cats, Evan, Chief, and Zed it was chief who had made that loud noise, for he rammed one of the cats into the door.
"High time for some heat!" said Zed launching fire from his hands
Chapter 3
Fire zipped around one of the cats, and scorched his fur. He lay there without moving. Next I leaped at the last cat, and pinned him on the ground with my wolf jaws around his throat.
"Who are you? Tell me Nowwwwwwwwww!" I said beginning to growl
"Don't you remember us? It's me James and Carter." said James
I bit down harder on his throat, because I remembered who they were, because they were jerks from school, which always bothered Julia. Just then Julia came running out.
"Stop Evan! You're going to hurt them!" she said Horrified
I growled loudly, and then let go returning to Julia's side.
"Hello Julia looking as pretty as ever." said James returning to human form
I snarled and jumped in front of her
"You stay away from her, or I'll have to rip you apart." I said growling.
"You and what army?"
"This one!"
Just then chief fell from the ceiling with Kaylynn, Jessie, BH, Carly, and Zoe. Zoe wasted no time, and went and kicked him in the leg
"Jerk." She said walking behind me.
"I think you're outnumbered here! So go get out get lost, or else!" I thundered
They ran out quickly and didn't stop going.
"Chief did you get the trackers on them?" I asked
"Yep I did!" said Chief smiling at me and Julia
"Good thanks Chief. Now as for you Julia 24 hour protection and you will drive MY car wherever you go. I shall also make arrangements with someone for you to stay with. "
"Evan I'm fine." Retorted Julia
"No you aren't! They are after you! Let me protect you!" I replied back
"Fine but I don't think they'll come back for Me." said Julia rubbing my arm
"I only do what I do, because I love you." I said to Julia.
"Awwwwwwwwwwwwwwwwwwwwwwww!" said everyone out loud.
I rolled my eyes and smiled.
Chapter 4
-The next morning-
"Well what do we do now?" asked Julia
"I gotta get you out of town, so that you are safe, so that I may track them down." I replied
"What! You aren't sending me away, I wanna be here with you!" Julia wined
"No it's for your safety."
"You already sent me away once, and I ended up rescuing YOU!"
"Well it's settled you'll be leaving tomorrow morning."
"Uh hey guys I hate to interrupt, but I need Evan in the briefing room." said Jessie peeking in the door.
Julia got up, hugged me and went to her room.
-In Julia's Room-
Julia picks up the phone, and calls Zoe.
"Hey Zoe Evan is sending me away so that I can be safe from these shape shifters. Even though I knew those boys from school." said Julia to Zoe
"Well I remember those boys to, and they were mean to you!" retorted Zoe
"We only ever fooled around."
"Remember when Evan stood up for you?"
"Yes… I remember that he did. But I don't wanna leave Evan alone to fight them!"
"We aren't! You'll be staying with me! I've got a plan! We'll be helping him out after all!"
"Really?"
"Yes!"
"Julia open the door! It's me Evan."
"Oops got to go Evan is here!" said Julia hanging up the phone
"Who was that?" I asked
"Uhh what? Who's what?" said Julia smiling
"Don't think flashing that smile of your is going to make me stop asking who was it?" I asked again
"Ok fine it was your sister, I'll be with her."
"Oh that's a good idea! I'm glad you'll be with her, where you are safe."
"Yep we're going to have A LOT of fun." said Julia smiling
"Alright well take this." I said
"What is it?" she replied staring at me with her dark brown eyes.
Chapter 5
"A Keyblade?" asked Julia
"Yes it was forged by a keyblade forging wizard. Only a handful in existence!" I replied
"Whoa! You're giving me one? Why?"
"Because I believe, you'll need it to defend yourself while you're away."
Julia thought for a moment, and realized she could use it for her and Zoe's plan to help Evan.
"Oh thank you Evan!" she said giving me a tight hug
"Now be safe out there, I want you back in one piece!" I said kissing her on the forehead
"Don't worry I'll be right there with you." She said under her breath.
"What was that?"
"Nothing Ev." She said with a wink
Zoe came to pick Julia up later that day, and Jessie went with them to ensure Julia got there safetly.
"Alright here's the plan."
"Umm Jessie's here…"
"She is in on the plan."
"Yep I am!" said Jessie interrupting
"Now Jessie You said Chief's millionaires, so I need their number, so that they can help with the rest of the plan." said Zoe turning the corner to her house
"OK here it is, they are awaiting your call."
"Wait a just a second you mean to tell me you guys already have a plan! It's only been a day!" said Julia rather confused
"Well we're fast planners. Evan is always trying to protect you so we always have a plan to assist for getting you there." said Zoe
"Oh this is exciting!" said Jessie getting out of the car.
"Evan gave me this said I'd need to defend myself." said Julia raising her hand up
Just then a flash of purple light flashed before them. There in Julia's hand was a keyblade.
Chapter 6
"A Keyblade!?" Zoe and Jessie shouted together
"Yeah it's a sword… What's the big deal?"
"It means your heart is strong enough to wield one!"
"Oh so I guess it's pretty special huh." said Julia
"Uh yeah! Evan is a keyblade master! He's named you his apprentice!" said Zoe hugging onto Julia
"Well I guess I'll use it when I need it!" said Julia sending the keyblade away
Little did Julia know she'd need that keyblade more than she ever thought!
Chief's parents Max and Geri were on their way over to talk out the rest of the plan.
Knock knock knock
"I'll get it!" yelled Jessie from the kitchen
"Max! Geri! So good to see you again!" said Jessie hugging them
"It is so good to see you again too Jessie! I hear that Evan isn't letting his little lady help out. I understand where he's coming from! I wouldn't want Geri hurt if i had to go fight something like he has to do." said Max patting Julia's head
"Well I know that I want to be there with him! Evan's strong, but I don't want him out there alone!" piped in Julia
"He wouldn't be alone dear! He's got Zed, Kaylynn, Carly, and Sid!" said Geri rubbing Julia's arm
"Still I need help getting to him! I think he might need me more than he thinks!"
"Alright then! We'll set off in the morning to find him!" said Max sitting down in a chair
-Somewhere where the rest of the gang is-
"Wait! I smell something!" I growled
"What is it?" asked Chief
"James!" I replied in a growl
I knew I had to get to him, so I started running toward the scent
"Wait Evan! It could be a trap!" shouted Zed
I didn't stop, I burst into the next room, and leaped at a dark figure it was only a board shaped like a big cat. Just then a net fell over me
"Evan hang on!" shouted Zed running into the room with the rest of the gang.
Two new shape shifters fell into the room, a smallish dog like creature, and another smallish cat. I stared at them I knew who they were! Shawn and Alex other jerks I knew
Chief tried to cut me out of the net, but couldn't do it, I told them to go and get more help, and I'd get back to them.
Chapter 7
"We have to go and see Julia!" said Carly
"Yeah I'm thinking you're right!" said Chief driving the car to Zoe's house
"Guys? What are you doing here?" asked Julia "And where's Evan?"
"That's what we are here to talk to you about." Said Chief hanging his head
"Oh no! Evan's gone! How! What Happened!"
"Well he was following a scent, and got kidnapped by Shawn, and Alex.
"Shawn and Alex!" hissed Julia
"We have to find him now!" she continued flashing the keyblade to her side
"Who where'd you get that?" asked Chief
"Evan gave it to me; he said I'd 'need it'" replied Julia
Max and Geri came down the stairs with Jessie.
"Guys, Evan's been wolfnapped!" said Julia
"Oh No!" said Jessie
"We launch into action tonight!" stated Julia
The team suited up for what was to come
"WAIT! Everyone I have everything we'll need for this mission in my secret closet!" said Zoe running up the stairs
Inside the closet were suits specially built for each one of them.
"I had these made awhile back, I guess we get to use them now!" said Zoe looking over at Julia.
Chapter 8
"Whoa! Ok these are nice!" said Jessie putting on the new suit.
"Yes they are made of a new fabric compound that allows you to move swiftly, and is invincible to most damage." said Zoe zipping up Julia's suit.
Julia thought for a moment. She remembered all of the fun times she'd had with Evan. A tear fell from her eyes.
"What's wrong Dearie?" asked Geri coming up behind Julia
"Umm it's nothing ma'am." said Julia wiping the tear away.
"Well something is wrong, otherwise you wouldn't be crying, and call me Geri." said Geri smiling at her
"I guess there is something wrong, I'm worried Evan is hurt, and I can't do anything about it. I'm also still shaken up, because we don't really have a plan anymore…" Julia stopped for a moment
"Jessie? Call Indy! He still owes us some animal amulets from the last adventure we all went on." said Julia starting to smile.
"Chief go up to BABV SS with Carly! Have her collect some nets, rope, grappling hook, tape, and the old telecomunicator." said Julia
Chief and Carly left straight away for the BABV SS building.
"Thanks Geri! I think I have the strength to go on." said Julia hugging Geri
"You're Welcome Julia." said Geri Hugging back.
"Alright then the jet has landed! We are now waiting for Sid, and Carly to return, and then we can leave for Indy's neck of the woods, and collect those amulets.
-Over at BABV SS-
"Where do y'all keep the stuff Julia asked for?" asked Carly running inside.
"The craft closet." replied Chief
"Craft Closet!? What do you guys do in your spare time! I'd think it would be in the 'Death Trap' closet!" said Carly.
"Well it's in the craft closet." Replied Chief.
"Fine I'll go down to the Death Trap closet and come back." Carly started skipping toward the closet.
"It's the craft closet!" said Chief starting to laugh
"Whatever you say Chief!" said Carly laughing herself.
Chapter 9
Julia ran over to the Jet, and jumped in. They had everything the needed now to visit Indy to get some extra power. She found herself thinking about Evan. She began to twist her dark brown hair as the wind outside began picking up. The team entered in, and sat down.
"We're pulling up to the airport near Indy's now." said Chief looking out the window.
"Time seems to have passed quickly." Thought Julia.
The plane opened to reveal Indy waiting for us. Julia jumped out, and hugged Indy.
"I've heard Evan is missing!" said Indy Sternly
"Yes that's right…" said Julia
"Well…" said Indy beginning to smile, "He's got good friends, and you Julia will always be special to him, I know you'll rescue him!" said Indy
"But before you go here are the amulets you asked for: Lion, for Chief, Zebra for Jessie, Dragon for Zed, Pegasus for Kaylynn, Unicorn for Carly, a Cheetah for Zoe, and a Wolf on for Julia. These are special tools! Julia yours is closely connected with Evan, when you are a wolf, you can hear him think." said Indy
"Now go and bring Evan back in one piece!" shouted Indy as Everyone got into the plane.
"I'm going in to find him!" said Julia to everyone. "I'll call you in if I need you."
"No way! We're all here to save Evan!" said Zoe
"Well He's my special guy, I don't want any of you risking your life for…"
"Julia me and you are Best Friends, we met before you started going steady with Evan." said Zoe "But these guys have been Evan's friends for a really long time, you need to let us help you."
Chapter 10
Julia thought a moment, just as the plane came to a halt on the ground. She knew they wouldn't leave her alone until she let them go, so reluctantly she agreed.
"Alright our keyblades are linked, let me see if I can trace him to a location." said Julia
Julia threw her keyblade into the sky, and it flashed into a portal right in front of them.
"Guess this is where we enter." said Chief with uncertainty in his voice
Julia and friend stepped through the portal to find themselves in a Mythical World.
"Where are we?" asked Jessie itching her head.
"Well I'm not entirely sure." said Julia walking through some trees toward an old looking home, of a very large size.
"The Keyblade says he's in there." said Julia pointing at the door to the house.
"I hate scary houses…" said Chief stepping behind Jessie.
Julia ran straight for the door, and there was Evan laying on the floor, he didn't look to badly injured, or like there was anything wrong with him. Just then the door flew shut, and James, Carter, Shawn and Alex fell from the ceiling.
"Now who's surrounded?" asked James sarcastically
"I guess Evan was right!" said Julia clinching her fists
"What's that? That I was better for you?" replied James again
"No… That you guys were Jerks!"
Julia turned into a reddish brown colored wolf, and stood in front of Evan, she could now read his thought. He was alive, and inside he was laughing at the fact that Julia was going to beat them down.
She leaped at Alex, and put a cage charm around his neck.
"Hey!? Where'd you get the cage charms!?" shouted Alex now petrified.
"Our Wizard has a few tricks." Retorted Julia
Just then Zed burned Down the door, and shot a flame ball straight at James, who ducked, and let it hit Carter.
"Well at least I hit one of you Jokers!" shouted Zed laughing as Kaylynn and Jessie dragged Evan outside."
Chapter 11
Julia turned back into a human, and threw her keyblade at James. He clocked him square in the head, and knocked him out cold.
HA! I win!" said Julia sticking her tongue out at the know knocked out James.
"Where's Chief?" asked Jessie.
"I think he's around Back." replied Carly.
Walking around to the back of the house, there was Chief with a few people and a Lion they'd never seen before. Julia and Jessie woke me up, and he smiled at them both.
"Hi girls! What did I miss while I was out?" I replied
Julia giggled and pulled me up, giving me a hug. Her face was buried in my chest. I could tell she was crying.
"I thought you were gone." She said, her voice muffled by my shirt.
"Well I'm right her, and I'm not going anywhere." I replied stroking her soft brown hair.
She looked up at me now smiling, and stepped to my side. Just then from behind the house came Chief, and the others
"Guys I'd like you to meet King Jovan, Prince Leo, Princess Julia, and Princess Mia."
"Floored at how much Leo looked Like Evan, Julia looked like Julia, and Mia looked like Jessie, Jovan Began to speak.
"Welcome to Star Valley! Thank you for ridding us of those fiends, and saving us. You may not know this, but these are some of your Relatives. Julia, meet Princess Julia she is one of your ancestors.
"It's nice to meet you. We have the same name! That's cool" said Julia.
"As it is nice to meet you. Yes we do have the same name." said Princess Julia with a smile.
"Evan met your ancestor Leo. He originated the keyblade." said Jovan
"Wow you look a lot like me!" I said with excitement.
"Thanks, and you don't look to bad yourself." said Leo as he started Laughing.
Both Julia's sighed, and gave an eye roll to the comments, and then smiled at each other.
"Jessie, I would like to introduce Mia, she is your ancestor." said Jovan.
"Whoa, it's like we're twins!" said Jessie.
"Yeah it's like we are, it's like looking at yourself in the mirror." replied Mia.
"I can only handle one Jessie!" shouted Chief.
"Oh really!" replied Jessie "You're sooooooo getting tickle attacked when we get back home!"
Everyone laughed, as Chief started running away from Jessie as she chased him. I opened a portal back home, and Jessie chased Chief right through.
"We'll need to be getting back, make sure you lock those guys up." I said walking through the portal with Julia as she tucked her arm in mine, and leaned her head onto my arm.
-The End-
*Credits begin Rolling Zoe walks out in front of the credits*
"HEY! We never used those amulets, or my suits!" yelled Zoe.
"We'll use them in the next one!" I said
"Fine!" replied Zoe as she rolled her eyes
*Special thanks
Characters from Leo and Friends
Julia
Mia
Leo
And King Jovan